Make plans for 2024!
We have good news: the Good Book Club will continue in 2024, so mark your calendars now! We've already selected the readings and will be releasing more details and resources in the coming months.
In Epiphanytide 2024, the Good Book Club will start at the beginning, with the book of Genesis.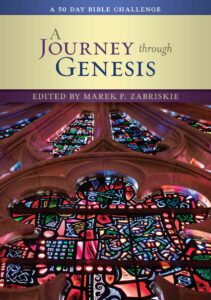 In our surveys we heard you ask for more resources, including daily reflections, to accompany the readings. You asked; we answered! We're excited to announce the upcoming release of A Journey through Genesis, a 50 Day Bible Challenge book with reflections, questions, and prayers for each of the fifty chapters of Genesis. I've read the reflections from the esteemed group of leaders, and they're amazing!
You can pre-order A Journey through Genesis now with special Early Bird discount pricing!
Order before March 31, 2023, and get each copy for $13 (regular $18). Save even more when buying for churches and groups, with a bulk rate of $10 each for 10+ copies. The books will ship in August so you have plenty of time to prepare for the reading of Genesis in 2024. The prices increase on April 1.